If you're ready to turn your passion and skill for dog training into a rewarding life-long career, our one-of-a-kind 3 weekend accelerated master trainer program can help you maximize your potential.
What To Expect
Dog Training is an active career. We will be walking, hiking and on our feet every day for most of the day. Part of our program is learning how to properly expose our dogs to environmental distractions, which means we will be spending time at local businesses that allow dogs (i.e. tractor supply), parks and local hiking trails.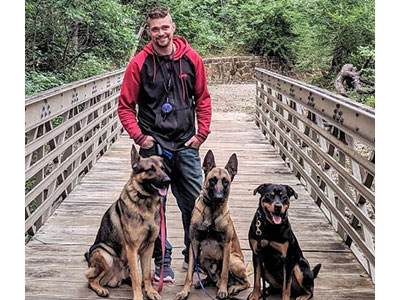 About The Instructor
Damian Blanton
Damian grew up in Northern Indiana, playing sports and spending as much time outdoors as possible. He wants every dog owner to have a bond and relationship like he had with his dogs — and the best way to achieve that is through structure and opening up communication between pet and owner.